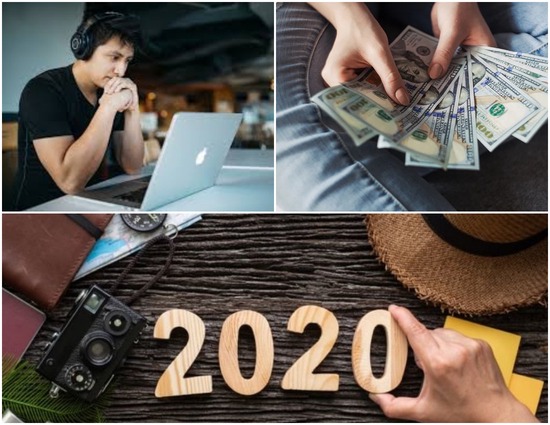 Most time there are numerous amount of skills that can make one independent on a monthly income or wages as the case may be. In the last decade, There have been some really tedious work one may have been indulged oneself due to the fact that there was an inadequate skill which will make one his own boss but as time may have it a lot of people survived that last decade and here is the beginning of another decade where there is still enough time to reminisce over acquiring a certain skill or the other in order to make a living or to support one's previous skills.
Below are the most lucrative skills to learn and possibly make a living from it;
1.
Creativity
:
Creativity is just using your basic knowledge about one thing to bring about new ideas or solution to any problem at hand. To earn creativity as a skill is a lot of work and it involves mastering a lot of skills that go side-by-side with one's best skills. Creativity can be used in different aspect of works like; architecture, artistic work, design and anything under
art
that needs a high level of productivity.
2.
Digital Marketing
:
Digital Marketing has really evolved over the decade and I can boldly say that there is a lot of quest for acquiring digital marketing skills. Without much "
okoto meow meow skrr
", Digital Marketing is advertising delivered through digital channels. Channels such as social media, mobile applications, email, web applications, search engines, websites, or any other possible digital channel.
3.
Video Production/ Editing
:
This is one of the most growing skills that is attracting a lot of young minds and it simply has to do with creativity as stated earlier. According to WIKIPEDIA,
"
Video production is the process of producing video content. It is the equivalent of film-making, but with images recorded digitally instead of on film stock. There are three stages of video production: pre-production, production, and post-production. Pre-production involves all of the planning aspects of the video production process before filming begins. This includes script-writing, scheduling, logistics, and other administrative duties.
Production is the phase of video production which captures the video content (moving images/videography) and involves filming the subject(s) of the video. Post-production is the action of selectively combining those video clips through video editing into a finished product that tells a story or communicates a message in either a live event setting (live production) or after an event has occurred (post-production)
"
.
As it can be deduced from the above description of what video production means, It can be noticed that Video Editing(is basically the manipulation and arrangement of video shots) goes in handy with Video Production. So it all depends if you'd like to acquire the skill.
4.
Coding
:
With the emergence of new companies and businesses who need to earn their online with a website or possibly a mobile application, Developers who code are the ones to be called up for the job and most especially "Coders". Coding is one of the evolving skills that people acquire and it is simply the brain behind all the mobile apps, computer software and websites you find all around the world of digital technology. From the Microsoft Word application software to Facebook, Snapchat, Instagram and WhatsApp. Literarily, everything was made possible through coding. So learn coding today!
5.
Marketing
:
There's nowhere in the world where marketing skills are not needed. Marketing is the powerhouse of any business and it leads to sales.
Marketing
is the study and management of exchange relationships. It is the business process of creating relationships with and satisfying customers. Because
marketing
is used to attract customers, it is one of the primary components of business management and commerce.
6.
Video Animation
:
Video animation is very rampant nowadays, it is basically twisting video advertisement, and your job is to simply create animations. Video animation is a hot cake for whoever has the skill to make money. Animations enliven mood and make videos less boring. People are already fed up with video adverts and creating this interesting twist to advertising will surely help businesses. If you are still lost, those comic videos you watch made with cartoons are all video animations.
7.
Graphics/UI and UX Design
:
UI mean User Interface while UX mean User Experience. Both are interconnected and are the processes involved in making a product or an application of a company easy to use by customers or new users. UI deals with the design of the product to make it user-friendly while UX deals with the analytics and the technicalities involved. You can often make a minimum of 6 figures (#***, ***) per project with this skill.
8.
Project Management
:
This is basically what most people call "Contracts" in non-formal settings. According to WIKIPEDIA, "Project management is the practice of initiating, planning, executing, controlling, and closing the work of a team to achieve specific goals and meet specific success criteria at the specified time. The primary challenge of project management is to achieve all of the project goals within the given constraints".
9.
Business Branding/Consultancy
:
Business Branding
is a way of identifying your brand. It is how your customers recognize and experience your brand. A strong
brand
is more than just a logo; it's reflected in everything from your customer service style, staff uniforms, business cards and premises to your marketing materials and advertising while
Business Consultancy
is working with clients on strategy, planning and problem solving, and helping clients develop business skills and knowledge. These topics range from designing a business model or marketing plan, to determining which marketing techniques to use and how to use them.
As explained I hope you can see that with a business consultancy skill you'd be a very good business branding person because it all depends on your level of creativity.
10.
Analytic Reasoning (AR)
:
Analytical reasoning refers to the ability to look at information, be it qualitative or quantitative in nature, and discern patterns within the information.
In conclusion
, I would advise that anyone interested in any of the skills listed above should enquire about it before diving into it and you may follow me because I'd further, post each skill as a topic for more guidance.
Don't Forget to Drop your questions and contribution in the Comment section.