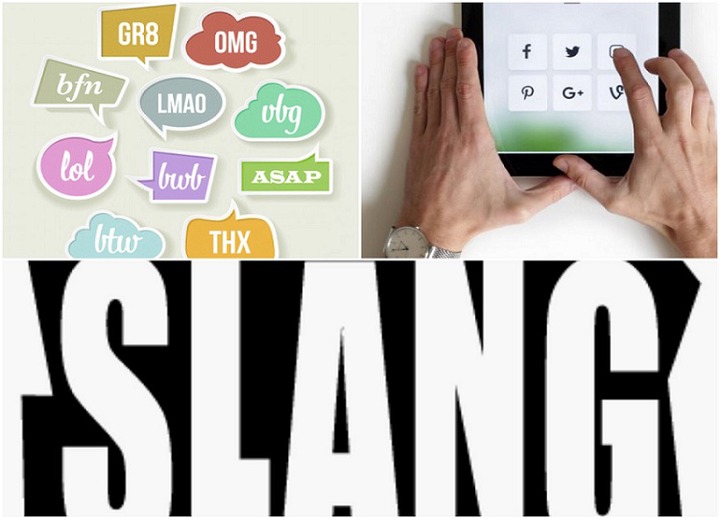 According to Oxford; Slang is a type of language consisting of words and phrases that are regarded as very informal, are more common in speech than writing, and are typically restricted to a particular context or group of people. Furthermore, Slang is the language of an informal register that members of particular in-groups favour in order to establish group identity, exclude outsiders or both (WIKIPEDIA).
This has led to the high use of these lexical innovations among youths in the society and most importantly at various point of communication such as text messaging, chatting with friends on the internet via social media platforms. Furthermore, the use of these slangs and phrases are often used while communicating in an informal setting most especially on Whatsapp, Twitter or Facebook among other social media platforms.
Below are the most used Slangs and Phrases with their original meanings or Translation on Twitter, Facebook, Whatsapp and other internet outlets;
Slangs – Meaning (Translation)
God When? – I need this type of thing
Okoto Meow Meow Skrrr - Trash Talk, Long Story
Bomboclaat – Jamaican word used when surprised and angry
O jewa ka eng – What is it that is bothering your soul?
Sco pa tu mana – What experience does this remind you of?
Mad oh – Very Surprising, Seriously?, Burst My Brain
LMAO – Leave Me Alone Ode(Fool)
I dey H – I'm hungry
We gather dey –
We are in this together.
Mafo
Don't panic.(Be Confident)
Omo Iya mi – My Personal Person(My Mother's child)
Owale oyojo – Maximum Respect
Jogor – Drunk
Ogberagha – Runs Girl(Sex Workers)
Kuronibe – Leave there(Vacate that place)
Jacking – Reading
Maa goo – Be smart
Baba na u o – Ironic appraisal
Igi iwe, eso odo – Extreme Reader who always fail
Gp dey shake – Low C.G.P.A
ji masun – Be at alert
Agba firiyoyo – A rich and highly respected person
Shanking – Disappointing
Yawa – Problem
Gbe body eh – Dance Well(Move Your Body)
Japa – Run For Your Life
N.B.G – No Belt Gang
Igbolabi – Weed Addict
Abeg – Please
As it can be seen from the above slangs that most of these slangs(phrases) are mostly words used on Social Media Platforms and mostly in the entertainment space especially in the music industry. Therefore, it can be deduced that the level at which slangs are used on the internet is very high and a lot of young minds tend to use them to ease the stress of typing in full and it helps to increase one's level of sarcasm.